Prisons is under State Subject and Mizoram Prisons Administration, in the real sense of the t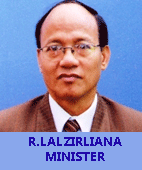 erm, has emerged only after Mizoram was elevated from the status of one of the Districts of Assam into a Union Territory. As such, Mizoram Jails in the initial stage of development were under Central Administration till Mizoram became a State. During this period, Prison administration was mainly concentrated in security custody and confinement of prisoners. Now, with the modern concept of imprisonment the Department is making effort to take up the security aspect and reformation of prisoners on equal footing.

Under Prison Department there is a Directorate headed by I.G Prisons and under him there are one D.I.G, one A.I.G and one office Superintendent. There are six District Jails located at Aizawl, Lunglei, Saiha, Champhai, Kolasib and Lawngtlai and a Central Jail at Aizawl and District Jail, Serchhip and District Jail, Mamit will operationlize shorly. The District Jails are looked after by Jail Superintendents and the Central Jail by a Special Superintendent . Under the Superintendent, there are Jailor, Assistant Jailor, Chief Head Warder, Head Warder and Jail warder. Besides, there are Clerical Staff like LDC, UDC in Jails and Assistant in Directorate Office. However, Some Guarding Staff were also deployed as Clerical Staff. There is one Doctor for Central Jail and District Jail, Aizawl. Other Jails have Medical Nurses (Staff Nurses).
---
CONTACT DETAILS OF OFFICERS
>> Inspector General of Prisons : 0389 - 2343968 >> Dy. Inspector General of Prisons : 0389-2316326
>> Asst. Inspector General of Prisons : 0389 - 2316328 >> Office Superintendent : 0389 - 2327236
>> Spl Superintendent, Central Jail, Aizawl : 0389 - 2330180 >> Superintendent, District Jail, Aizawl : 0389 - 2316964
>> Superintendent, District Jail, Lunglei : 0372 - 2324095 >> Superintendent, District Jail, Saiha : 03835 - 223044
>> Superintendent, District Jail, Lawngtlai : 9612163663 >> Superintendent, District Jail, Champhai : 03831 - 235943
>> Superintendent, District Jail, Kolasib : 03837 - 220734